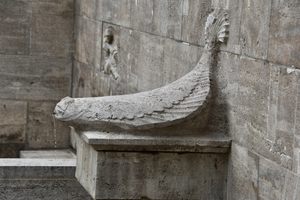 Nestled in an inconspicuous corner of the Museumsinsel, a funny little fountain shaped like a flatfish spurts out a steady stream of water, flanked by a pair of staircases leading up to the Eiserne Bridge.
This "Buttbrunnen," or the "flounder fountain"—pleasantly alliterative in both German and English—was designed by local sculptor Robert Schirmer and installed here in 1916 as a whimsical homage to King Friedrich Wilhelm IV of Prussia, who envisioned the Neues Museum. He nicknamed himself "Butt" within his close circle of friends and family members, comparing himself to a fat flounder.
In 1829, the flounder fountain was made of zinc, made of zinc, made at the "Roman baths" of Sanssouci in Friedrich Wilhelm's honor. Modeled after this monument, Berlin's "Buttbrunnen" was made from Fraconian shell limestone and decorated with allegorical reliefs depicting personifications of the city's two rivers, the Spree and the Panke.