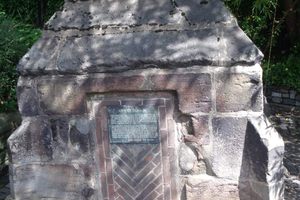 The wellhead was originally constructed in 1450, rebuilt in 1847, and then restored once again in 1959. At some point in its history, it was resited to the northeast for street clearances. 
The wellhead was commissioned by Thomas Billingham as a gift to the city at a time when safe, fresh water was not always easy to locate. The wellhead protected the water source and preserved the quality of the water in the well.  These wellheads were the first line of defense for preventing contaminants from entering the water supply.
The wellhead at Fram is a low, rectangular structure with buttresses on each corner and a sloped roof. There is a now bricked doorway on the south-facing side and a small slot along the east side.
The wellhead is a Grade II listed building and was first listed in 1952.