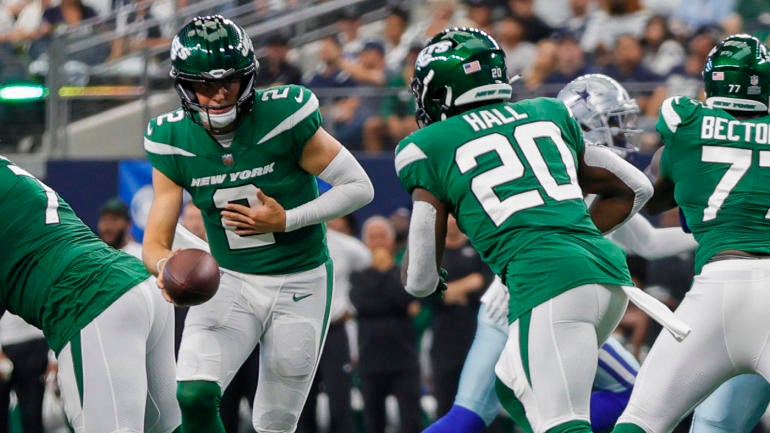 The New York Jets can point to a number of reasons why they lost 30-10 against the Dallas Cowboys on Sunday. Their four turnovers (three interceptions and one lost fumble), their inability to force Cowboys quarterback Dak Prescott and the rest of the Dallas offense into committing a turnover and their inability to sustain drives offensively all stand out. One of the reasons they were unable to maintain momentum was their predictability offensively. 
The Jets' six drives in the second half resulted in two punts, one lost fumble and three interceptions as New York was shut out in the game's final 30 minutes. Offensive coordinator Nathaniel Hackett called 17 pass plays to only three running plays in the game's third and fourth quarters, and one of those was a Dalvin Cook fumble that was forced and recovered by Cowboys All-Pro linebacker Micah Parsons. Those three running plays gained a grand total of -2 yards.
A week ago, second-year running back Breece Hall totaled 127 rushing yards on 10 carries, including an 83-yard gain, in the Jets' 22-16 overtime win against the Buffalo Bills. On Sunday, Hall totaled 9 yards on only four carries, and quarterback Zach Wilson was Gang Green's leading rusher with 36 yards on five scrambles. That left the running back irate postgame. 
"I mean, I only got four touches," Hall said Sunday, via The Athletic. "That's why we struggled. It is what it is. We just got down early today and just abandoned the run. That type of stuff happens, you feel like you've have to get back in the game and it just slips away." 
New York hired Nathaniel Hackett, the recently fired Denver Broncos head coach (2022) and former Green Bay Packers offensive coordinator (2019-2021), this past offseason prior to trading for Packers four-time NFL MVP quarterback Aaron Rodgers. Hackett seemed out of answers against Dallas' dominating defense without Rodgers at the controls. Given Hall's feeling about Hackett's play-calling, 2023 could be a very long season Florham Park.