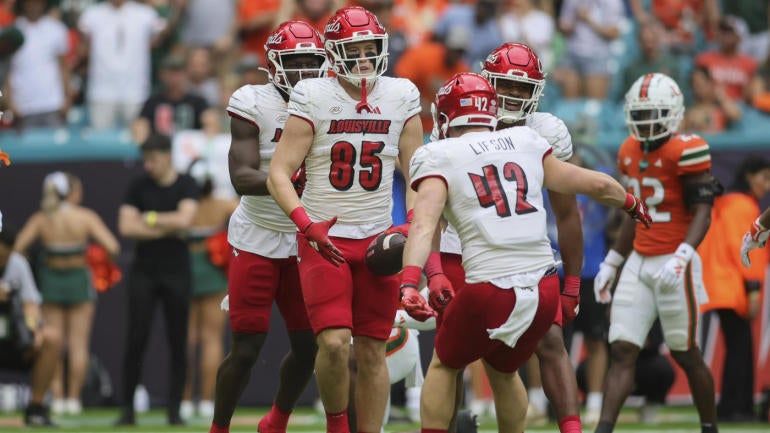 For the first time in program history, Louisville is headed to the ACC Championship Game. The No. 10 Cardinals secured their spot with a 38-31 win on the road against upset-minded Miami, setting up a Dec. 2 date with No. 4 Florida State at Bank of America Stadium in Charlotte, North Carolina. As the final score indicates, Saturday's win came down to the wire after a wild back and forth. 
Miami tied the game at 31 with just over 5:30 to play in the fourth quarter thanks to a 51-yard field from kicker Andres Borregales. Louisville scored what became the decisive touchdown two plays later, however, when quarterback Jack Plummer hit wide receiver Kevin Coleman Jr. for a 58-yard score. 
The Hurricanes twice came excruciatingly short of sending the game to overtime. The first opportunity was a failed goal-to-go series that netted a total of 1 yard, this despite the offense working the ball down to the 4-yard line with just over two minutes to play. The second chance, with 20 seconds remaining, started from behind the 8-ball after an unsportsmanlike penalty put the 'Canes in poor field position. A Hail Mary attempt from quarterback Tyler Van Dyke actually connected with wide receiver Xavier Restrepo, but he was tackled 4 yards short of the goal line. 
Louisville joined the ACC in 2014 and were co-Atlantic Division Champions with Clemson in 2016, though the top-ranked Tigers received the bid to play in that year's conference title game. Louisville hasn't played for a conference championship outright since 2012 when it was still a member of the now-defunct Big East. 
While Louisville might not have much championship game experience first-year coach Jeff Brohm does. He is fresh off a 2022 season in which he led Purdue to its first Big Ten Championship Game in program history. Brohm also has two Conference USA championships on his résumé from his time at Western Kentucky. Brohm is also the first coach at Louisville to win 10 games in his first season; the Cardinals were picked eighth in the preseason ACC poll.