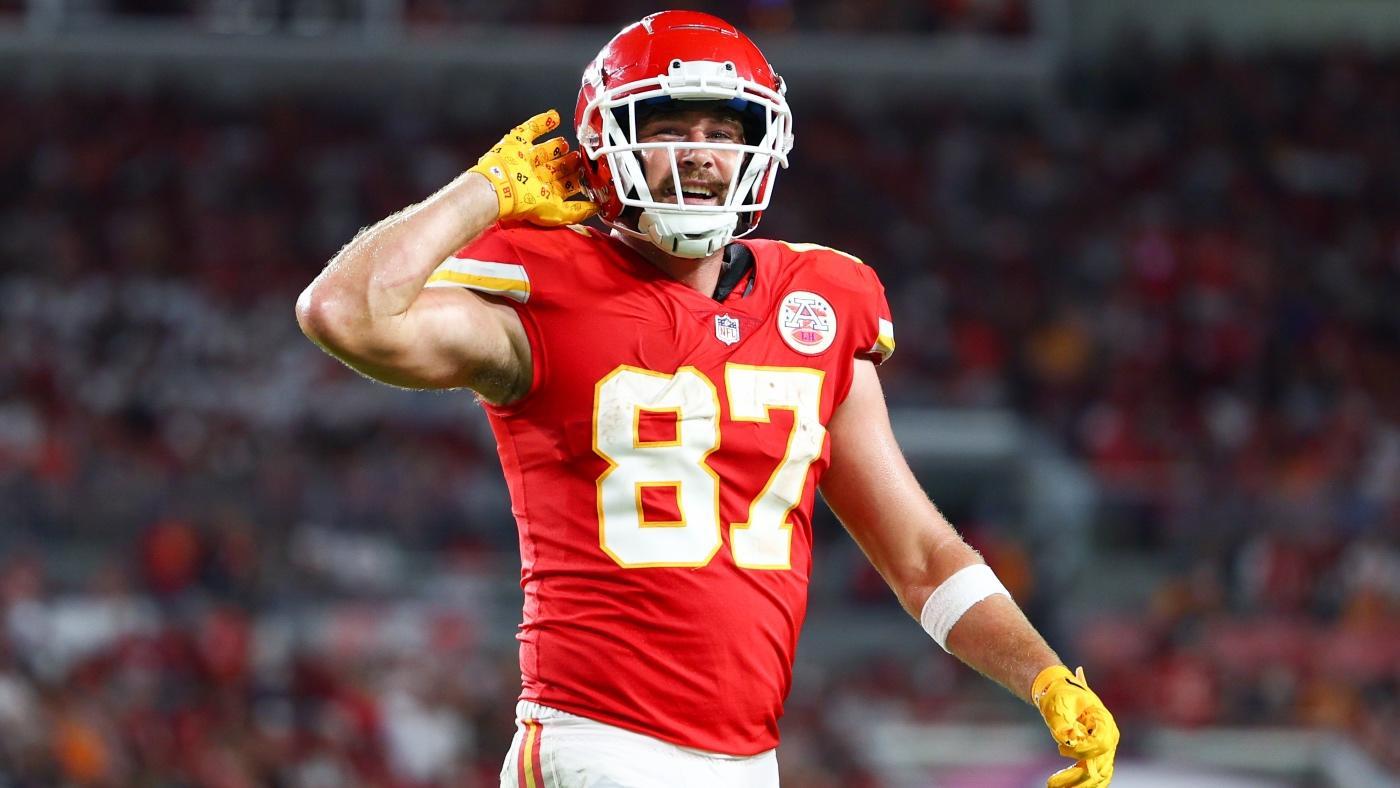 It didn't take long for the NFL's first big injury of the 2023 season to occur. On his fourth snap as a Jet, Aaron Rodgers' season ended after the four-time league MVP suffered a torn Achilles on Monday night against the Bills.
Rodgers wasn't the only notable player who suffered a significant injury in Week 1. J.K. Dobbins was lost for the year after the Ravens running back suffered a knee injury. Along with getting blown out by the 49ers, the Steelers lost defensive tackle Cam Heyward (ankle) for at least eight weeks and receiver Diontae Johnson (hamstring) for several weeks. The Chargers offense took a hit with Austin Ekeler dealing with ankle injury following his big performance in Sunday's loss to the Dolphins, and his injury, among others, are the ones we are monitoring as we look for ward to Week 2.
Below is a rundown of each team's injury situation as the NFL delves into its second week of action. 
All odds courtesy of Sportsline consensus.
Decker's status for Sunday does not seem good after he missed each of the Lions' practices this week. Moseley will miss his second straight game as he continues to work his way back from a torn ACL injury sustained last year as a member of the 49ers. 
Kansas City will have two of its biggest stars back in the lineup this weekend. Head coach Andy Reid told reporters Friday that Travis Kelce and Chris Jones will both play when the team travels to Jacksonville. Kelce missed Week 1 due to a knee injury, while Jones was absent due to a contract dispute that has since been resolved. Kelce is technically listed as questionable, but all signs point to him playing after being limited throughout the week. As for Clyde Edwards-Helaire, he missed practice on Friday after returning on Thursday, so his statues does seem to be up in the air. 
Jacksonville will be monitoring the status of two starting offensive lineman as they get closer to kickoff in this game. Starting center Luke Fortner and right guard Brandon Scherff are both questionable to play on Sunday. However, each was limited during Friday's practice giving them a shot to suit up. 
Chicago may not have Josh Blackwell when they travel to Tampa as the Bears have listed him as doubtful for Week 2 after not practicing on Thursday or Friday. Linebacker Dylan Cole (hamstring) and tight end Marcedes Lewis (rest) both carry no designation after being listed on the injury report earlier in the week. Also, the Bears will be without defensive coordinator Alan Williams due to personal reasons, according to ESPN. Head coach Matt Eberflus told reporters that he will fill in as the defensive play caller. 
Tampa Bay will be missing some key pieces to their defense. In the cases of Davis and Kancey, neither was able to practice this week. As for Dennis, he popped up on the injury report as a limited participant on Thursday and did not practice Friday. Quarterback Baker Mayfield (right shoulder) was listed on the injury report all week, but was a full participant throughout and has no injury designation for this game, meaning he is good to go.
Despite Indianapolis listing both Nelson and Ogletree as questionable, they both were able to practice in some capacity on Friday. Ogletree was a full participant, while Nelson worked in limited fashion after missing both Wednesday and Thursday. Running back Zack Moss (forearm) has carries no designation after practicing fully all week, meaning he is in line to make his season debut. 
Houston's Friday injury report included the surprise addition of Stroud, who practiced in full the previous two days. Stroud was listed as questionable despite reportedly not showing any visible issues after practice. Davis Mills would start for the Texans if Stroud can't go. 
Chargers (-3) at Titans
Ekeler and Kendricks didn't practice all week, so the odds of either player suiting up on Sunday are slim. Rumph was limited all week, while Bosa was limited on Friday after not practicing on Wednesday and Thursday. 
For the Titans, things aren't looking too promising for Hopkins, who said that his injury situation is a "day-to-day process." Skoronski was added to the injury report Friday after being full-go on Wednesday and Thursday. 
After a two touchdown performance in the opener that was marred by a head injury, the Raiders will be without wideout Jakobi Meyers on Sunday in Buffalo. He did not practice at all this week due to a concussion. Las Vegas will also once again be without Chandler Jones, who posted earlier this month that he does not want to play for the franchise any longer.
The Bills enter Week 2 healthy. Center Mitch Morse (finger) was the lone player listed on the injury report, but practiced fully throughout the week and carries no designation. 
Ravens at Bengals (-3)
The Ravens are banged up in multiple areas and will be without a number of key players specifically in the secondary and along the offensive line. All four players that have been ruled out were unable to practice all week. On a positive note, however, Mark Andrews was a full participant in practice on Friday, which is an indication that he could make his season debut despite having the questionable tag.
Cincinnati is relatively healthy heading into Week 2. However, Bailey is the lone player trending in the wrong direction. While Evans and Ossai were both limited on Friday, Bailey was the only player listed as a non-participant after popping up with a knee injury on Thursday. Joe Burrow (calf) remained listed on the injury report, but practiced fully all week and carries no designation. 
Green Bay has listed four players as questionable, but they all may fall under different variations of the designation. Neither Bakhtiari nor Jones practiced this week due to their injuries, while both Watson and Walker were limited on Friday. 
Anderson was able to return to practice on a limited basis on Friday, but the linebacker is still in concussion protocol. As for Okudah, the Falcons defensive back was limited all throughout the week, so it would appear like he has a chance to play against Green Bay. Running back Cordarrelle Patterson (thigh) was listed on the injury report this week, but was a full participant and does not carry a designation. 
49ers (-7.5) at Rams 
Analysis to come.
Left tackle Andrew Thomas told reporters that his hamstring is feeling better, but is most likely going to be a "game-time decision" leading up to Week 2. As for tight end Darren Waller, his hamstring doesn't appear to be limiting his status for this matchup as he carries no designation after wrapping up the week of practice. 
Zuerlein didn't appear on the Jets' injury report until Friday, when he did not practice after getting injured during Thursday's practice. While the injury isn't considered to be serious, it has put Zuerlein's status for Sunday's game in jeopardy. Becton, Brown and Hall each practiced in full on Friday, so it's safe to assume that all three players will be available on Sunday. 
Zack Martin was the man worth watching as the Cowboys released their game statues for Week 2 after he appeared on the injury report on Thursday with a groin injury. Head coach Mike McCarthy told reporters on Friday that Martin "took every rep" during the final session of the week, which would seem like he is trending in the right direction. Dallas is also holding out hope for Cooks, who did not practice at all this week but are still listing him as questionable. 
Commanders: DB Quan Martin (concussion) OUT
Broncos: TBD
Head coach Ron Rivera told reporters Friday that Commanders defensive end Chase Young (neck) has been cleared to return and will make his 2023 season debut in Week 2. Meanwhile, wideout Curtis Samuel (hip) does not carry an injury designation after being limited throughout the week of practice. 
Dolphins (-3) at Patriots 
Dolphins: TBD
Patriots: TBD
Analysis to come.
Analysis to come.
Browns (-2.5) at Steelers: Monday night 
Browns: Defensive tackle Siaki Ika (foot) was the only Browns player that did not practice on Friday. Offensive tackle Jedrick Wills (foot) was questionable for a second straight day. Wills sustained the injury during last Sunday's win over the Bengals. 
Steelers: Diontae Johnson (hamstring) missed practice for a second straight day and is expected to be sidelined for the next several weeks. Backup running back Anthony McFarland (knee) and defensive tackle Larry Ogunjobi (foot) also did not practice Friday. McFarland told reporters on Friday that his knee (which has been a lingering issue) flared up following last Sunday's loss to the 49ers and he is waiting for the swelling to go down.