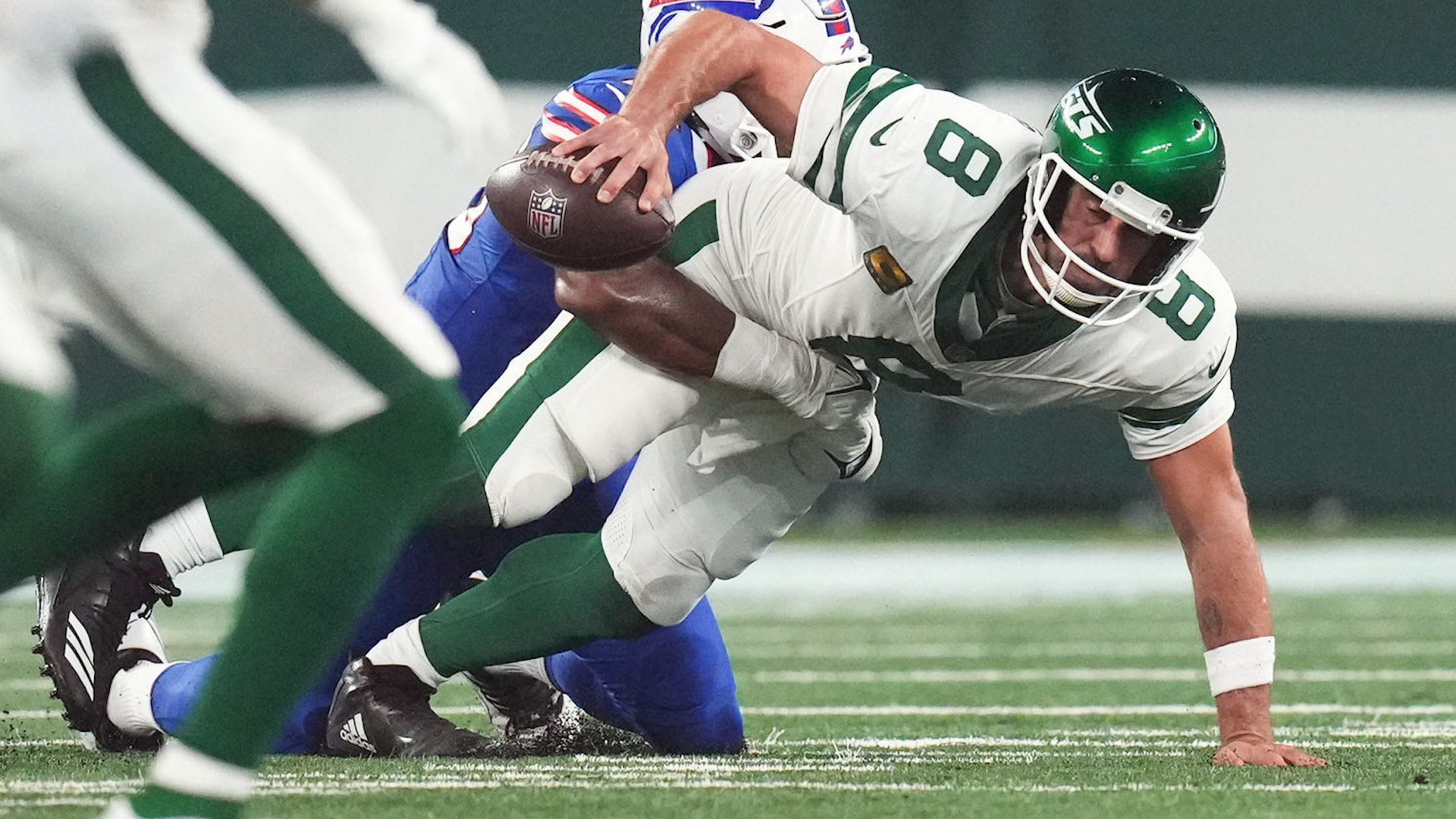 A day after Aaron Rodgers' anticipated Jets debut practically ended before it began, NFL executives addressed — and downplayed — concerns about the safety of turf fields, as well as New York's remaining schedule of prime-time games.
Rodgers' quick exit with a torn Achilles on Monday was at least a partial result of heavy pressure behind a struggling Jets offensive line. But several players, including the quarterback's former Packers teammate David Bakhtiari, have since sounded off on the artificial surface at New York's MetLife Stadium, calling on the NFL to replace turf with natural grass because of apparent safety concerns.
Jeff Miller, the NFL's executive vice president for health and safety innovation, says the NFL and NFLPA are working on solutions but nothing appears imminent.
"We work very closely with the (NFL) Players Association on surface research," he told reporters on a Tuesday conference call. "We share all the injury information. They have all the same data we have. … We have stadiums with natural grass where there's a lower injury rate than synthetic surfaces, and we have synthetic surfaces where the injury rate is lower. … Our effort is to try to drive down those rates on both surfaces. Hopefully in the next couple years we'll see some progress in those spaces."
Miller said the NFL works closely with "biomechanical engineers" to dissect potential safety concerns anytime there are significant injuries, such as the Achilles tears suffered by Rodgers and Ravens running back J.K. Dobbins in Week 1. But historically, he said, "there is no difference in the injury rate for Achilles injuries between natural grass and synthetic turf, dating back to 2015."
Now that Rodgers is done for the season, there is also concern about the Jets' prime-time spotlight, considering the NFL scheduled New York for five different prime-time matchups in 2023. Technically, only two of the club's remaining prime-time games are eligible to be flexed to new time slots, but even if that weren't the case, the NFL isn't rushing to react to Rodgers' exit.
"Obviously last night was sad as a fan," said executive Hans Schroeder. "(But) the game itself was an incredible win for the Jets, and they're sitting 1-0." Not only that, but there is a "history" of backups emerging in the wake of big-name injuries, he added, using the 49ers' Brock Purdy and longtime Patriots QB Tom Brady, who once replaced an injured Drew Bledsoe, as examples of improbably successful replacements. Besides, Schroeder noted, even with Rodgers leaving Monday's game against the Bills, New York's season opener is on track to register as the most-watched ESPN broadcast of "Monday Night Football" since 2006.