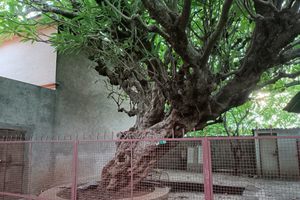 Parvati Hill has historically been an essential part of Pune's culture and heritage. The hill is known for its iconic temple complex, museum, memorial, and cave.
On the top of the hill, between the Devdeveshwar Temple and the Peshwa Museum, in a beautiful garden stands a more-than-300-year-old living witness of history. It's a huge White Frangipani tree (Plumeria rubra). The tree is also known as Temple Tree, Dev Chaph, or Pandhra (White) Chapha.
The frangipani tree is not native to India and is found in Mexico and Central America. According to historians, the Portuguese brought the tree along with them and first planted these trees in Goa, followed by the Konkan region, and later, Pune. Across India, these trees can be commonly seen planted next to temples.
Nanasaheb Peshwa built this temple complex in 1749. Historians believe that the Chapha tree has existed on this hill since before the temple was constructed and may be the oldest tree in the city.
The tree is a beautiful sight to behold. It stands tall in a tranquil courtyard surrounded by the peace of the temple. It has witnessed centuries of the city's history and is now under the care of the temple trust and authorities.