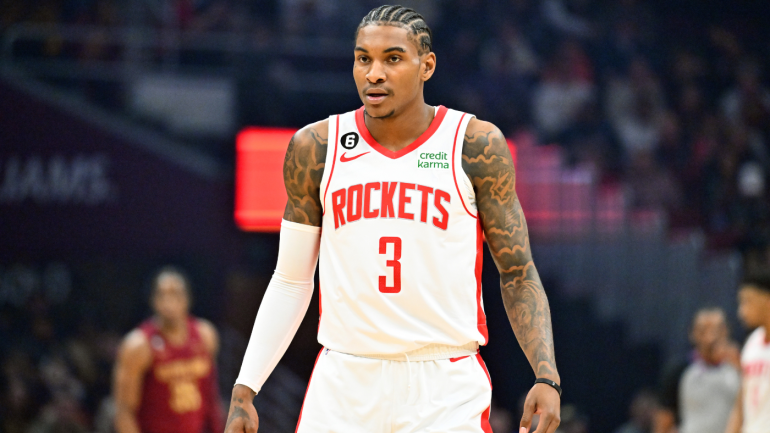 Houston Rockets guard Kevin Porter Jr. was arrested early Monday morning in New York City for allegedly assaulting his girlfriend, former WNBA player Kysre Gondrezick, per ABC News. Domestic violence charges are pending against Porter Jr., who is being held at the NYPD's 17th Precinct in Midtown.
Porter Jr. was reportedly returning from a night out to a hotel where he and Gondrezick were staying, according to ABC News. Gondrezick was upset with the hour in which Porter Jr. was returning and locked the door. After entering the room with help of hotel security, the Rockets guard allegedly "beat up" Gondrezick. Further details about the situation are unclear at this time.
In a statement released Monday, NBA spokesperson Mike Bass said the league is aware of reports and "gathering more information" about Porter Jr.
This isn't Porter Jr.'s first run-in with the law. In August 2020 he was accused of punching a woman and pulling her hair while in downtown Cleveland. In that incident the woman alleged that Porter ripped out her weave while in an argument with Porter's sister and that the Rockets guard punched her in the face. Porter was not charged for that incident. 
In November 2020 when he was still a member of the Cleveland Cavaliers, he was arrested for being in possession of a loaded gun after getting into a single-car accident. He was later released after posting a $4,000 bond.
After one season with the Cavaliers, Porter Jr. was traded to the Rockets in 2021 following a locker room outburst in which he was angry that his locker had been given to someone else. Porter reportedly began yelling and at one point threw food, and despite Cavaliers general manager Koby Altman stepping in to calm him down, Porter remained "combative." After the incident he was told to clean out his locker and his teammates were told he would no longer be a member of the team. Four days later he was traded to Houston.