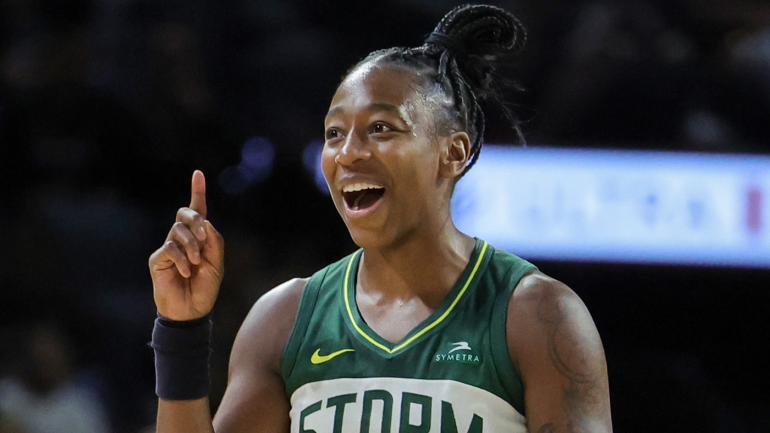 The Seattle Storm announced on Saturday that the team has signed All-Star guard Jewell Loyd to a two-year contract extension. By signing Loyd to an extension now, the Storm don't have to worry about potentially losing her as she was set to become a free agent at the end of this season. Loyd confirmed the news of her extension on social media.
Loyd has been having the best year of her career, averaging a career high 24.6 points, 4.7 rebounds and 3.4 assists. She was named MVP of the All-Star Game after setting a new All-Star Game record in scoring with 31 points, and on August 22 she set a new franchise record for most points scored in a single season. While the Storm were eliminated from playoff contention, Loyd's performance all season long kept them competitive in many games.
"It's been special for Seattle to witness Jewell compete for championships and rise to be one of the best in the game," Storm president Alisha Valavanis said in the team's statement. "She is a franchise player, and we are excited to continue to build our future around her. She is a remarkable person and leader, she lifts her teammates, the organization, and her community. Everyone around Jewell knows she embodies greatness. We're so glad she's staying in Seattle."
Loyd has spent her entire WNBA career with the Storm, after being the No. 1 overall pick in the 2015 draft. She's a five-time All Star and has helped Seattle win two championships. While the Storm are entering a new era after former franchise centerpiece Breanna Stewart left to join the New York Liberty ahead of this season, Loyd's ascension this season has positioned her as the new face of the team with a bright future.
"This has been a special year for Jewell and I'm excited it caps off with a commitment to continue to build her legacy in Seattle," Storm head coach Noelle Quinn said. "Jewell brings a level of excellence to our team on the court and consistently proves that she is one of the best in our league. Her accolades and achievements speak volumes to the commitment she has to her game, and the Seattle Storm. She is our leader and someone that we look forward to locking arms with heading into this new era of Storm basketball.  It has been my absolute honor to have both played with and coached Jewell and I can't wait to continue creating lasting memories in Seattle."