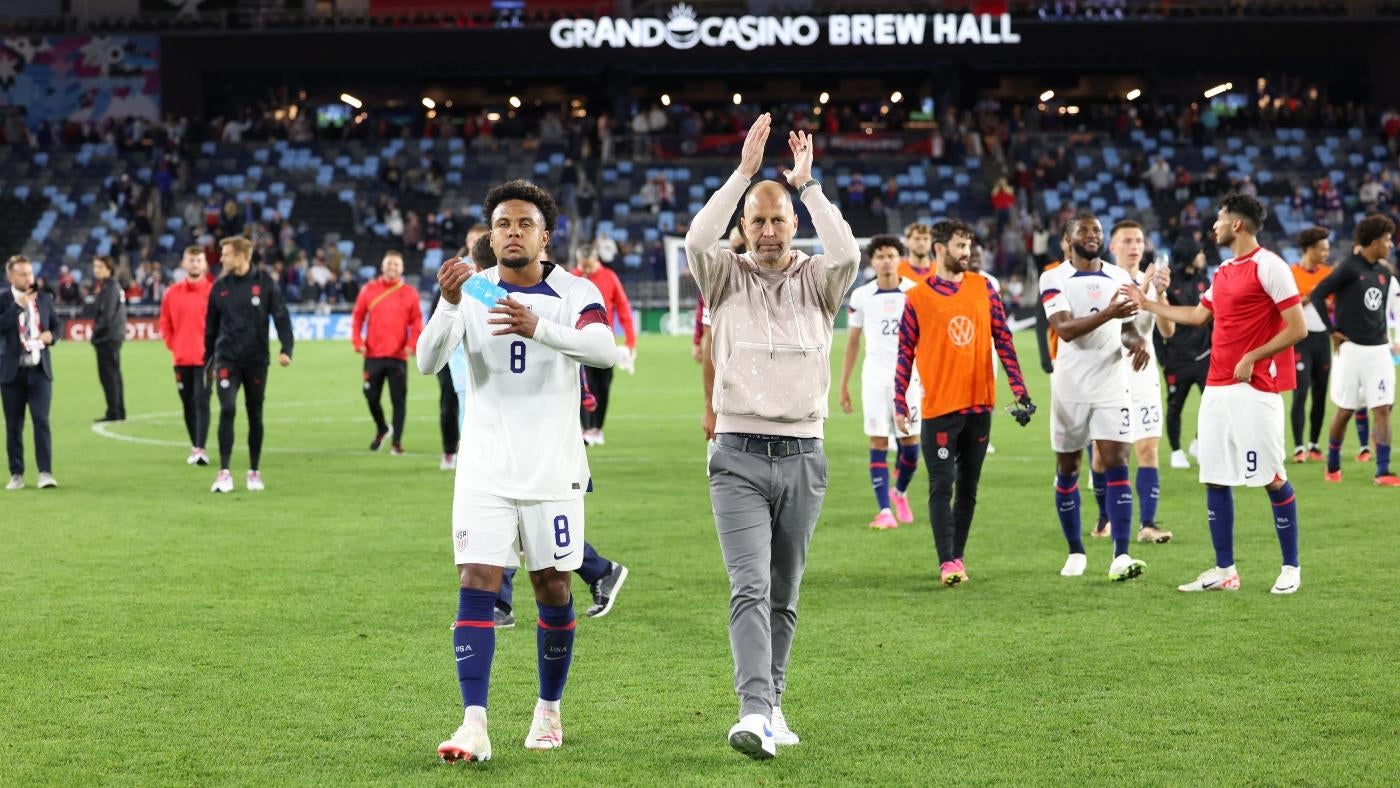 Gregg Berhalter's return to the U.S. men's national team saw them pass their first tests in international friendlies with flying colors defeating Oman and Uzbekistan by a combined score of 7-0. Seeing five different scorers and three debuts during the camp, two wins will always be positive no matter the competition. The USMNT also improved as the break went on dominating versus Oman after an average performance against Uzbekistan. There were plenty of good performances but a few stood out as we look at how stocks changed around the national team pool during this camp.
Stock up:
Weston McKennie
A player who has gone from being a starting midfielder for Juventus and Leeds United to a backup wing back behind his fellow countrymen Tim Weah, McKennie put on a show. Dominating midfield and creating chances with ease, McKennie showed that he needs to be at the center of the park for club and country. While the opposition should be factored into things, McKennie is a player who can be unstoppable when motivated and it's clear that he's using this reduction in playing time to show why he should be back in the starting XI.
If McKennie can keep this up in his return to Juventus it will only be a matter of time until he's back in the regular rotation and not as a wing back.
Stock down:
Josh Sargent
Missing camp due to an anke injury, it may be harsh to put Sargent in this category but with a motivated Ricardo Pepi and a clear top striker in Folarin Balogun, Sargent has gone from starting at the World Cup to fighting to be the third choice striker in the national team pool within the last year. The same goes for Jesus Ferreira but that's where Sargent starting at the World Cup gives him the nod here. Only 23, there is plenty of time for Sargent to fight for his spot, and in reality, this is a good problem for Berhalter to have. 
No coach has ever complained about having too many serviceable attackers to choose from as Balogun's commitment to the United States has only been a good thing. Even when Balogun isn't scoring, he impacts the game with his runs and holdup play which has sparked a fire in Pepi. Scoring six goals in his last five appearances, Pepi is making do with whatever playing time that he can get to shine for the team, surpassing other forward options. When Sargent is healthy, he will still have a role but it'll be a long road to starting again. 
Stock up: Ricardo Pepi
Pepi has become an unstoppable force for the national team. Not even a regular starter for PSV, Pepi has been able to settle into a role where he changes the game from the bench and it has translated well to international play. During tournaments, there will be moments when Berhalter needs to rest Balogun during group stage play and Pepi allows for that with more strong performances.
Stock neutral:
Drake Callender
Even Matt Turner needing to leave camp early due to the birth of his daughter didn't see Callender get his first start for the USMNT with Ethan Horvath instead deputizing versus Oman. Called into his second camp without featuring in a match, when will Callender get his elusive first cap? He's in strong form for Inter Miami helping to power the club to a playoff berth but just can't get over the hump with the national team. Callender was slightly held back by not being with the camp for the entire time due to featuring versus Sporting Kansas City but if he can't get a half against Oman, it may be a while before Callender truly breaks into the squad even with Zack Steffen injured.
Stock up: Kris Lund 
Serie B is becoming familiar territory for the national team with Lund joining Gianluca Busio and Tanner Tessmann as current internationals but the left back shined in his full debut against Oman and could provide depth. A dual national who has represented Denmark at youth levels, Lund could have every opportunity to become Antonee Robinson's backup or even push for a starting role down the line. When Sergino Dest is both the starting right back and backup left back, something is needed at the position and Lund offers a dynamic presence down the flanks. Lund was constantly forward against Oman letting Christian Pulisic float central and it helped the USMNT control the pace of the match which could give Berhalter new wrinkles against sides that the USMNT are expected to defeat.