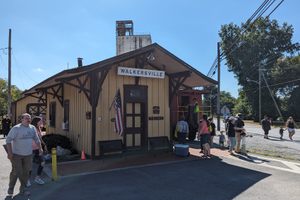 The Walkersville Southern Railroad runs an out-and-back route along tracks laid in 1872 by the Frederick and Pennsylvania Railroad. The railroad has gone through several name changes during its more than 150 years in operation.
This includes over a half dozen name changes and an eight-year period of inactivity following a washout of the bridge straddling the Monocacy River caused by Hurricane Agnes in 1972.
After a brief bid by the Maryland Midland Railway, the line once again fell into disrepair until volunteers from the Walkersville Southern Railroad began a restoration effort in 1991. By 1995, they were running trains to the Monocacy River. The following year, they rebuilt the bridge and began running trains over the river for the first time since Agnes some 24 years earlier. In 1998, the line was built to its current terminus at MD Rte. 26.
Nowadays, this heritage railroad runs several excursions per day, with themed rides to match the season or to celebrate other popular characters. Riders can choose between a standard railcar or an open flatcar for their ride, or for larger parties, rental of an entire railcar or the caboose are available for a fee.
The Walkersville Southern Railroad Museum is located just across the street from the train station and entry is free. It features a surprisingly large collection of artifacts related to the Walkersville Southern Railroad and is a nice added bonus before or after a ride.