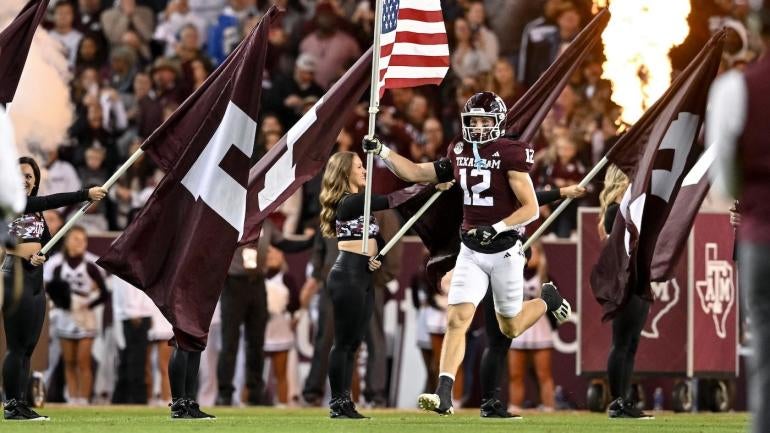 Texas A&M ran out a "12th Man" unit of walk-ons for kickoff coverage in a 38-10 victory over Abilene Christian. The lineup held Abilene Christian's returner to just a few yards on the return before running into the end zone to take a photo. 
The Aggies have a long relationship with the "12th Man," dating back to when a former basketball player came out of the stands to stand at attention in case he needed to enter the game in 1922. Former coach Jackie Sherrill created the first "12th Man Kickoff Team" in 1983 as an all walk-on unit to provide kickoff coverage. He advertised in the school newspaper looking for a team of non-scholarship players to sacrifice their body for a chance to give Texas A&M an edge. 
Sherrill's walk-on unit later went on to be one of the most successful in the nation. Sherrill was in the building and honored at Kyle Field during the win on Saturday. 
Texas A&M has moved away from the all-walk-on kickoff coverage team but retains the identity with a "12th Man" walk-on who wears No. 12 and participates on special teams. Senior defensive back Sam Mathews is the 12th Man in 2023. However, in celebration of Sherrill, Texas A&M interim coach Elijah Robinson brought back the unit for one week. 
"On Senior Day, I was trying to figure out how we could get as many seniors out there as much as possible, especially the guys who come out here every day," Robinson told reporters. "They're on scout team, they get no recognition, they don't get to play. How could we get those guys an opportunity to go out on the field? They'll never forget that." 
Texas A&M dominated Abilene Christian behind 106 yards rushing from running back Rueben Owens and 104 yards receiving from receiver Moose Muhammad III, who donned sleeves in an apparent slight towards former Aggies coach Jimbo Fisher during a breakout performance. The Aggies held ACU to just 242 yards of total offense.