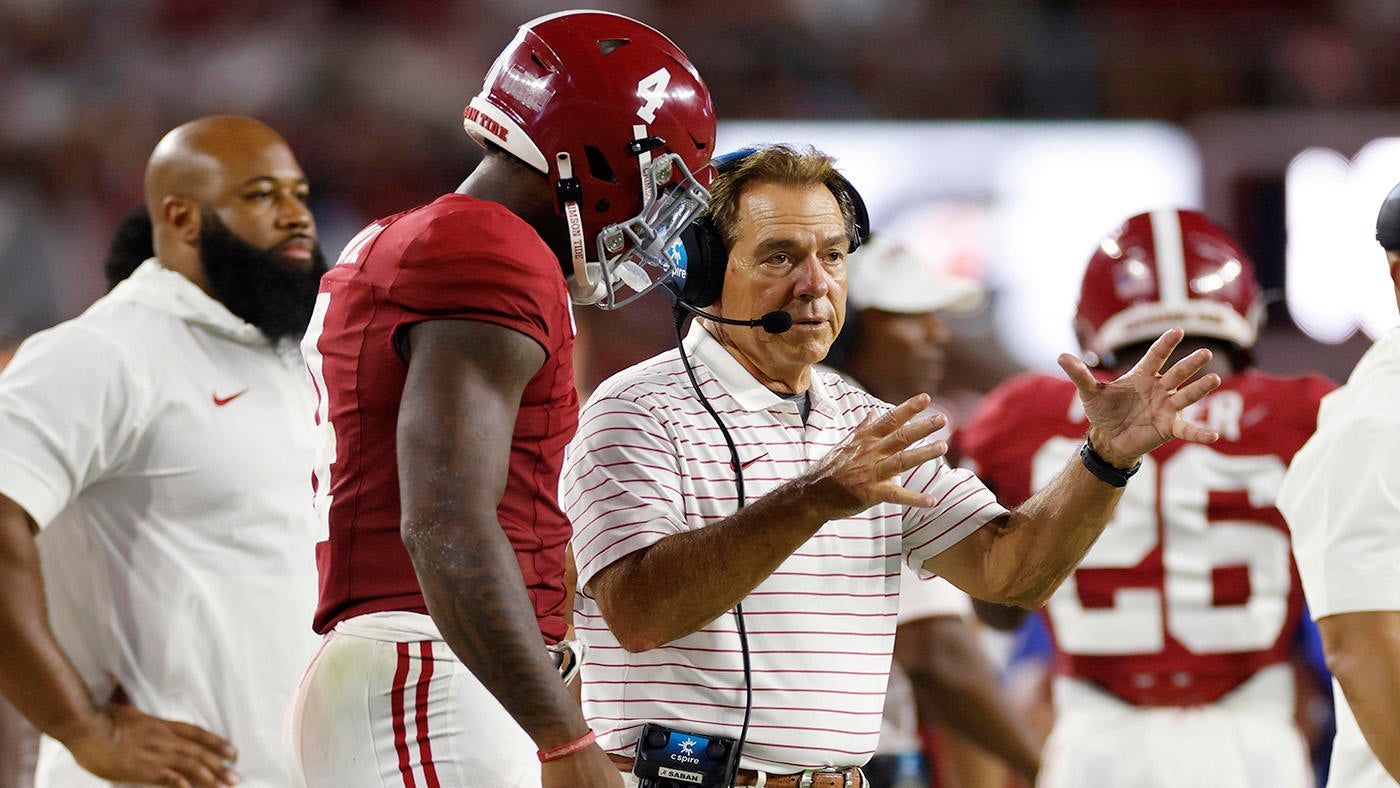 No. 13 Alabama was supposed to be provided a sense of comfort on Saturday against South Florida. The game was supposed to bring clarity to the quarterback position after Jalen Milroe, who had started the first two games of the season, was benched by Nick Saban following the 34-24 loss to No. 3 Texas in Week 2. Instead, the state of the Crimson Tide quarterback position is as clear as the mud that developed on the Raymond James Stadium field in the sloppy 17-3 win over the Bulls. 
Notre Dame transfer Tyler Buchner started the game went 5-of-14 passing with 34 passing yards before redshirt freshman Ty Simpson took his turn. Problem solved, right? Nope, the problem was exacerbated as Simpson went 5 of 9 for 73 yards. Granted, he helped lead the Crimson Tide to the win, but the fact that it was a one-score game into the final minute against a 34-point underdog is unacceptable. So, now it's back to the drawing board for Saban and the coaching staff.
"I know you're going to ask me about quarterbacks, but we're going to evaluate the quarterbacks that played today," Saban said in the postgame press conference. "Evaluate Jalen Milroe in terms of how he played and decide this week who gives us the best opportunity to be successful as an offensive team and that's the way we'll go."
Where the Tide go from here doesn't necessarily depend on who's taking the snaps, rather it has to do with the offensive line. Alabama has given up 12 sacks through three games — 13th in the SEC and 126th in the nation. Five came last weekend against a massively out-manned Bulls team. Five more came against the Longhorns, while Milroe avoided more tallies being added on that total thanks to his athleticism inside and outside the pocket.
The Tide's offensive line problems aren't exclusive to this season, either. They finished 13th in the SEC in sacks allowed in 2021 (41) despite the marked improvement in sacks allowed last year (22). The 63 tackles for loss allowed last season were cause for concern heading into the season, however. Saban addressed this glaring issue after the win over South Florida.
"We need to get that fixed because that was an area that's been a consistent problem for us all year," Saban said. "Last week with the sacks, this week with the sacks. You know, those are drive killers and we've got to eliminate that."
Milroe should never have been benched. Poor offensive line play is part of the identity of the Crimson Tide program at this point. It's clear now that Saban and the offensive staff, including offensive coordinator Tommy Rees, tried to force their best quarterback option to be something he's not rather than develop an offense that accentuates his strengths.
Why Alabama has to turn back to Jalen Milroe
No. 15 Ole Miss visits Bryant-Denny Stadium on Saturday, and the Rebels are the last team Saban wants to see at this point in the season. The Rebels are averaging 526.7 yards per game, a conference-best 8.19 yards per play and 52.7 points per game. This all despite nagging injuries that have hampered star running back Quinshon Judkins and wide receiver Tre Harris. Sure, the Rebels have feasted on cupcakes, but Alabama didn't even earn dessert last week amid the 17-point clunker in Tampa, Florida. 
From a coaching aspect, we know that Ole Miss coach (and former Tide offensive coordinator) Lane Kiffin treats this matchup much different than normal SEC West games. More importantly, though, is Ole Miss first-year defensive coordinator Pete Golding's familiarity with Saban, Milroe and Simpson after his five-year stint running the Tide's defense (2018-22). Saban didn't fire Golding last year, but let's just say he opened the front door and guided Golding to the frame in anticipation of him leaving the program. 
With all of that said, Saban has to go with Milroe. Buchner has been a roller coaster throughout his career not only at Alabama but at Notre Dame last year when he started three games and threw more interceptions (5) than touchdowns (3). Simpson has a limited sample size and isn't mobile enough to evade inevitable pressure. Buchner can make some plays with his feet but trusting him to make proper decisions under pressure isn't wise. 
Milroe can at least keep Alabama in the game. His 92 rushing yards and two rushing touchdowns through two games proved that he can move the chains and provide at least a small spark to a struggling offense. If Rees and Saban tailor that offense to Milroe's strengths, the Tide will have a chance to keep up with the Rebels in what will likely be a point-per-minute affair. If not, it's going to be a very long season in T-Town.
There are no good options, only sub-optional ones. Milroe is the best of those options this week against Ole Miss.